It's been almost a month since the dust settled after NAB 2016 in Las Vegas and after various stints of travel back and forth from California to Nevada, we have some pretty big news! We've been hard at work doing pre-production on our first big feature film and we've made great progress nailing down the script and figuring out how to make it all happen, as well as looking for locations to film in. The first big question we had to ask ourselves earlier this year was what do we film it on? We have a Sony A7S with an Atomos Shogun to record 4K with it and that is more than capable of filming 99% of the film. However, because this is our first feature, we want it to look its best and have as much quality to work with as possible, meaning 4K RAW. But which camera would be the best for us? Before we even could decide what to do with that question, we knew then that we had to wait for NAB and here's what happened.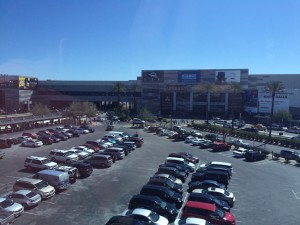 To start off, we have to say that there are some great cameras on the market but our needs have to be balanced with our budget as well as how we like to work. Yes, renting is always an option, but it's a hassle we'd rather not have to deal with for the whole shoot, especially because there are some deals out there to be had for less than what it would cost to rent even the cheapest of camera packages.
Our first choice was the Sony FS700 with Convergent Design Odyssey 7Q+ recorder as it allowed not only 4K RAW but also very fast frame rates in 2K RAW quality. On top of that, it has an E-mount which we can get a Speedbooster for or simply toss on our great Nikon G adapter from the A7S. However, at NAB, Sony announced a new RAW upgrade for the newer FS5 model and the bigger FS7 is the talk of the town when it comes to top of the line video cameras. As we found out, all of these had their own individual issues, whether it was the need for additional parts, like the outrageously priced $2,000 HD-SDI extension unit for the FS7, or the fact that the camera is discontinued, like the FS700. But the biggest problem was that all three of Sony's options looked like video with smooth motion, even when set to cinematic 23.98 frames per second! Our search continued throughout NAB and with Canon, JVC, and Panasonic not offering anything similar or, surprisingly, anything new for 2016, we headed to the South Hall where RED and Blackmagic Design held full reign.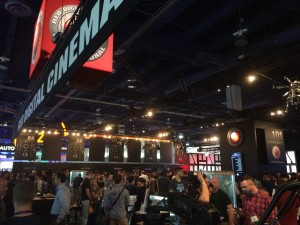 I, Zack Birlew, am a longtime fan of RED Digital Cinema and am also an active member of REDUser.net, so I knew already that the latest from RED included the new RED Raven 4.5K and Scarlet-Weapon 5K cameras with all the latest technology and bells and whistles RED could think of. Unfortunately, despite being absolute juggernauts in the digital cinema field, they carry the burden of their own fame and popularity which comes at the price of time. For us to even consider a RED Raven or a "Scarlet-W", as it's called, we would have to delay our production time, which is currently set for sometime this summer at the earliest, due to being in the back of the line for pre-ordering the camera as well as having to make a much larger investment than anticipated due to the new accessories of the new RED DSMC2 ecosystem. So, with that, we had to pass on RED's latest offerings.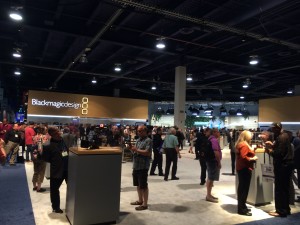 Our gaze then turned to the Blackmagic Design Ursa 4K, their higher end modular production camera, which provided everything we wanted, save for fast frame rate options, and at a price that we could very much afford. On display was a pre-production version of the new 4.6K variant of the URSA and after fiddling with the camera settings, we discovered a possible cause for the unfavorable "video look" of the video cameras provided by Sony, JVC, Canon, and Panasonic and why digital cinema cameras from RED, AJA, Kinefinity, and Blackmagic Design look like film. In the pre-production camera, there was a setting that we were quickly informed was a developer setting that would alter the sensor refresh rate of the camera. We had mistaken it for the frame rate setting and saw that adjusting the sensor refresh rate alone could determine the overall look of the footage, regardless of frame rate or even shutter speed. Setting the camera to 60 gave the appearance of video, as seen on the Sony cameras, but setting it to 23.98 or 24 gave the film-like appearance that digital cinema cameras are known for. The ideal setting was "Match" which sets the refresh rate to match the camera's frame rate and that immediately restored balance to the camera's native digital cinema film look. With that, we theorized that the problem with non-digital cinema cameras, like the sub-$10,000 professional Sony cameras we were looking at, is that they're set at the wrong sensor refresh rate or are set to 50 or 60 depending on region setting to maximize the quality of movement at 50P/60P frame rate settings but staying at that setting for other frame rates as well, thus causing the "video look" even at 23.98 or straight 24 frames per second. We could be completely wrong, but this observation really sealed the deal for us as far as what we should be looking for as a filmmaking tool. While the URSA seemed like a sure fit, the vast number of horror stories about quality control and reliability with the cameras caused us a great deal of worry and, ultimately, pause. In that same respect, we immediately overlooked the much critically panned AJA Cion system and then went back around to see our options.
The last stop was the Kinefinity booth back at the central hall. If you're not familiar with Kinefinity, then that's alright as they are a very new and sorely overlooked company. They're a Chinese camera company that launched their own digital cinema camera system that follows in the footsteps of RED and, in some cases, surpasses them in terms of the balance between offered features and price. They really seemed like the perfect camera system for us, brand new models called the "Terra" line coming out with both a 6K model in May and a special 5K resolution model in June with both a global shutter and electronic shutter option for the best of both low light performance as well as distortion-free high speed action. The price was right, the features were perfect, but the relative youth of the company was something we couldn't invest in at this time, especially when our goal is finding a camera system and accessory ecosystem to use for the long term.
So, our options were before us and all had their pluses and minuses, with only a few edging out ahead of the others. The Sony FS700, despite being discontinued and having the dreaded "video look", has a proven track record and some compelling features for the price. The URSA 4K has a decent fan base despite the overall quality control and reliability issues reported for Blackmagic Design's entire camera line. Lastly, the Kinefinity seemed like the perfect solution but comes with the risk of support and longevity in what already feels like an over saturated camera market. We were edging towards rolling the dice with the URSA 4K but my brother happened to come up with an alternative solution that I honestly didn't think he would ask nor consider… "How about a used RED One?"
The RED One MX, used to film such big Hollywood titles as "The Social Network", "Pirates of the Caribbean 4", "The Girl With The Dragon Tattoo" and even "The Muppets"! It had always been back in my mind but not really considered an option due to all of the newer cameras on the market. However, after seeing what we saw at NAB with current offerings and after there being nothing really new announced from the past couple years, the RED One MX not only met all of our feature requirements but it also still stands out as a camera not only ahead of the competition in 2016 but also in a class of its own despite being discontinued years ago.
Immediately, we went online to auction sites and REDUser looking for a used RED One MX package. In no time we found one that was not only a perfect match for what we wanted but also a great bargain. The camera came in the other day and even though we still have to add some parts, like recording media and batteries, the camera and live feed coming out of it look gorgeous and not only performs strongly but also matches quite nicely with our A7S which, surprisingly, doesn't have the video look of Sony's professional video cameras. With that, we're not only happy with our decision but also confident in the potential visual quality of our film. For us, the RED One MX is the right tool for the job.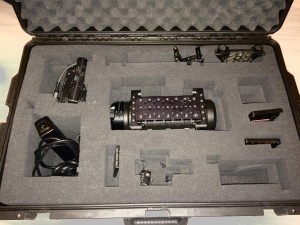 As for me, personally, holding that RED One and knowing that I now own one is more than a dream come true, it is a milestone. I was there during the first RED tent at NAB and saw the first massive prototype camera on display and I was hooked on the possibilities of 4K digital cinema. I saw the first short films and test footage and got to know some of the RED Team over time. Then I put in for a reservation for a RED One, #634, and I had one of the promotional titanium RED "R" blocks and everything, I was psyched! But at that time the RED One was $17,500, a very hefty investment but in the world of $100,000 1080P HD cameras, it was a steal! Ultimately it came down to a life decision, whether to forge on in the world of freelance and filmmaking or to cancel the RED camera and go to graduate film school. My brother was all set to go to Chapman University and it really didn't take me long to decide to cancel the RED and go with him to get my Masters degree. If I had the chance to do it all over again, I'd make the same choice, it is just a camera after all, but it was always something that bothered me as it felt like I had given up on something important on a creative level. At the time, 1/3" sensor 1080P HDV videotape with 24p was the best an indie filmmaker could get so it was a big deal then to step up to unheard of Super 35mm film-equivalent 4K resolution with interchangeable lenses. Thankfully, the age of the HDSLR emerged with the Nikon D90 and, later, Canon 5D Mark II that both blew everybody away for HD filmmaking, so my projects didn't suffer too badly and, in fact, I made some of my best work up to that point simply from having to come up with ways to get around some of the early HDSLR weaknesses. You can see what I mean with my film, "The Christmas Valentine" and my soon to be uploaded award-winning visual effects short, "Sparks of Pink & Blue" which were both filmed on the Nikon D90 in 720P 24P HD.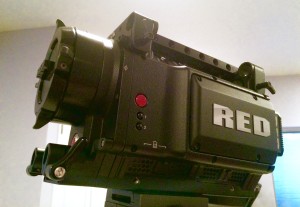 When I looked at my RED One MX all set up on the tripod for the first time, it struck me that now was the right time for me to have one. Back then, right out of college, I wouldn't have been able to make the kinds of films I can now, I wouldn't have had the knowledge and skills I've collected during and after film school, or even had the necessary software tools to make it all happen. So many things have changed and so many things have advanced for me personally and professionally that now is the time when I can properly use something like a RED One MX to great effect, especially after everything I had learned while making "The Review – A Fatal Frame Fan Film" using just a stock Canon 5D Mark II and an off-brand SJ4000 action camera. Yes, it is true what they say, it's not about the tools, it's how you use them and I look forward to seeing what I make with my RED One MX.